Since Malaysia consist of 13 states and 3 FT, Malaysia offers so many great magnets. Most of state in Malaysia have their own magnet, variety of magnet actually to be offered to the visitor as a great souvenir. 
We start with

Terengganu Darul Iman
Terengganu which located at north eastern Peninsular Malaysia is famous with the beautiful beaches and islands.
Floating mosque: One of the attraction in Terengganu
Country: Terengganu, Malaysia
Country: Terengganu, Malaysia
Next destination we travel down to the southernmost of Peninsular Malaysia;

Johor
Johor quite famous with unique name for its district, town for example Lumut, Parit etc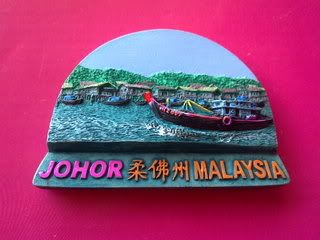 Kuda Kepang is a dance or game performed by Johoreans especially oh Javanese descent. Kuda Kepang is a legless horse shape puppet that is straddled by the performers.
Source: www.wikipedia.com